Why I Want to Go to Omaha
Why is Omaha on my travel list?  Two words, okay three:  The Bodmer Collection.
In 1832, German naturalist Prince Maximilian zu Weid-Neuweid led one of the earliest expeditions to the American West.*  As anyone who has snapped a picture of the Grand Canyon or the Grand Bazaar knows, expeditions need to be recorded.  Instead of a Canon Powershot, Prince Maximilian brought along Karl Bodmer, a young Swiss artist with a talent for watercolor.
Prince Maximilian and Bodmer traveled the rivers of the American West for two years, going from Saint Louis to North Dakota and back. They saw an Indian raid, a wild prairie fire, and herds of buffalo and elk at close range. They suffered through a harsh winter in North Dakota, trapped by snow and bitter cold. At one point their boat caught fire.
Bodmer painted through it all, even when it was so cold that his paints froze solid. He captured images  of the landscape, the animals, and. most notably, the Native American peoples they met.  Bodmer's depictions of the early American West have been described as the visual equivalent of Lewis and Clark's journals.  Although originally intended as "notes" to Prince Maximilian's account of their journey, Bodmer's paintings and sketches are now seen as the most important work of the expedition.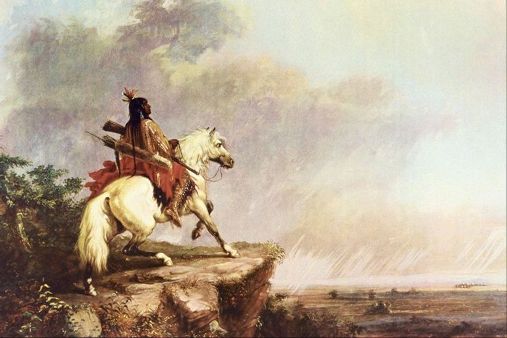 Today the Bodmer Collection is housed at the Joslyn Art Museum in Omaha, Nebraska.  Put it on your list.
*Prince Maximilian wasn't just a rich man with a yen for travel.  He had a bee in his bonnet.  He thought the native peoples of the Missouri and Mississippi river basins would help him prove that humankind developed from a single set of parents, presumably Adam and Eve.