Holiday Rerun: The Other First Thanksgiving
Unless you live in the American Southwest, the grade school version of American history* typically leaps from Columbus and 1492 straight to 1620, when the Pilgrims landed in Massachusetts. There is a vague awareness that the Spanish and the French were "out there" doing something, but the story focuses on the development of the thirteen British colonies.
In fact, El Paso, Texas, makes a good claim to being the site of the first American thanksgiving feast. **
In March, 1598, an expedition under the leadership of Juan de Oñate set out from Santa Barbara in the modern Mexican state of Chihuahua toward the northern Rio Grande Valley, where Oñate had been granted land by the viceroy of New Spain. Instead of taking the normal route along first the Rio Conchos and then the Rio Grande, the group of 500 people and 7000 head of livestock set out across the Chihuahua desert.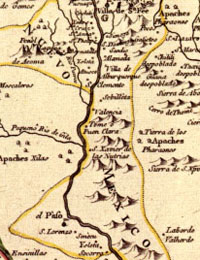 The trip took fifty days. For the first seven days, the expedition traveled through heavy rain. For the rest of the trip, they suffered from heat and dryness. Five days before they reached what is now El Paso, they ran out of both food and water. They scavenged what they could in the desert, but it was the Rio Grande that saved them. After resting for ten days on the banks of the river, Oñate declared a day of thanksgiving, including a feast of game and fish. One member of the expedition described the event in his diary:
We built a great bonfire and roasted the meat and fish, and then all sat down to a repast the like of which we had never enjoyed before. . .We were happy that our trials were over; as happy as were the passengers in the Ark when they saw the dove returning with the olive branch in his beak, bringing tidings that the deluge had subsided.
In fact, the feast wasn't the main event of the day. Festivities also included claiming the land of the Rio Grande Valley in the name of Philip II of Spain***–an event known as La Toma, literally The Taking. Many historians consider this event the beginning of Spanish colonization of the American Southwest. (Oñate's party continued up the Rio Grande and settled in what is now Santa Fe.)
Since 1989, the El Paso Mission Trail Association has celebrated a day of thanksgiving on April 30 in commemoration of Oñate's feast. I don't know about you, but that's a holiday I could buy into. Thanksgiving tamales, anyone?
* Which tends to be the default version in our heads.
**Or more accurately, the first European-American Thanksgiving.
*** Just to help you connect the dots: Philip II was married to Queen Mary of England, the older sister of Queen Elizabeth. In 1588, he ordered the ill-fated attempt on England known as the Spanish Armada.